About Sundarban National Park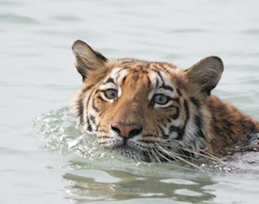 Sunderban national park is located at the South Eastern tip of the 24 Paraganas district in the state of West Bengal. It got its name from one of the mangrove plants known as Sundari (Heritiera Minor). The Sundarbans are a part of the world's largest delta formed by the rivers Ganges,Brahmaputra and Meghna. Sunderban is a vast area covering 4262 square kms in India alone, with a larger portion in Bangladesh. 2585 sq. kms of the Indian Sundarban forms the largest Tiger Reserve and National Park in India. The total area of the Indian part of the Sunderban forest, lying within the latitude between 21°13′-22°40′ North and longitude 88°05′-89°06′ East, is about 4,262 sq km, of which 2,125 sq km is occupied by mangrove forest across 56 islands and the balance is under water.
The park is surrounded by a buffer zone of 885 square kilometers. This also mainly consists of mangrove forests. The core area of the park has it's own natural boundaries with the river Matla on it's West, the river Haribhanga on it's East, with Netidhopani and Gosba in the North.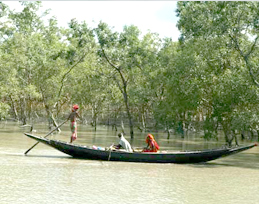 The four Sunderban national parks have been lumped together as they all share common features of the estuarine mangrove ecosystem. The main attractions of the Sunderbans are the Tiger, of which the delta harbor large reptiles like the Monitor Lizard, Estuarine Crocodile and the Olive Ridley Turtle, for which there is a conservation programme in the Indian park. The Leopard, Indian Rhinoceros, Javan Rhinoceros, Swamp Deer, Hog Deer and Water Buffalo have all become locally extinct from the delta in recent decades.
Best Season (Sundarbans National Park):
The best time to visit Sunderbans is during winters between December and February.although the park is open for longer from September to March. This is the period when the maximum migratory birds are also present here.
Access(Sunderban National Park) :
The Sunderbans are not easily accessible. To get to the Sundarban national park in India the nearest airport is Calcutta, the nearest railway station is Canning, and the nearest town is Gosaba. From the park headquarters at Canning take the country motor launch (5 hours) to Sajnekhali.