Best of East India Wildlife Tour
Discovering the rich flora and fauna of wildlife sanctuaries of East India is altogether an enriching and exciting experience. With varied topography and affluent natural beauty, the region is home to several rare and endangered wild species. And with our best of east India wildlife tour, you get once in a lifetime opportunity of going on a wildlife expedition at two of the most famous national parks in India – Sunderbans and Kaziranga. The tour starts off with a visit to the world's largest mangrove forest – Sunderbans. This World Heritage Site is the dwelling land of numerous wild species including the Indian tiger, aquatic mammals, reptiles and birds. Cruising through creeks while exploring the rich wildlife of the place is another delightful experience that one gets to savour only in Sunderbans National Park. After spotting the Royal Bengal Tiger, you will next head to catch the sight of the Indian rhinos, also known as one-horned rhinos. In India, this vulnerable species can only be spotted in the region of Assam and in Kaziranga, the density of this huge animal is highest known in the country. Along with the rhinos, the other wild animals you can expect to see at Kaziranga are Asiatic water buffalo, eastern swamp deer, wild boar, sambar, Indian muntjac, leopard, sloth bear and more. This wildlife tour to East India also includes a village expedition to Touphema and Khonoma. Along with that, you will be also taken to Jorhat (the tea capital of Assam) and Majuli (one of the world's biggest river island). Not restricted to this, the expedition also includes a sightseeing tour of Shillong and Cherrapunji where you'll visit the gorgeous waterfalls and pristine lakes. Top of that, his 17D/16N east India wildlife tour itinerary also insured by our impeccable service and arrangements of accommodation, food and transportation. To know more about the tour, check out the below mentioned day wise itinerary.
Day 01: Kolkatta – Basanti Port – Sundarbans National Park
Drive from Kolkatta to Basanti port by car (3 hrs), passing through the picturesque countryside of Bengal. Start boat launch from Gosaba. A short ride by local rickshaw will take you to the entrance of the Sundarbans forest. Pay a afternoon visit to the forest museum & watch different species residing in the mangrove world of the Sunderbans. Spend evening at leisure. Overnight stay inside the Sundarbans forest lodge.
Day 02 : Sunderbans National Park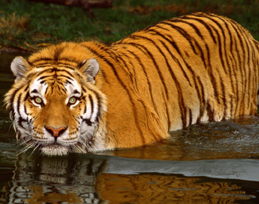 After breakfast visit the Sundarbans forest and enjoy a full day cruise by boat through the creeks of the dense forest. Visit Pakhiralya, Sudhanyakhali Watch Tower, Netidhopani Watch Tower & also other points of the Sundarbans forest. Enjoy an entertaining evening of special local religious / Kolkatta song "Banbibi Pala". Dinner and night halt at forest lodge.
Day 03 : Sunderbans National Park – Basanti Port – Kolkatta
Early morning visit to the local village Rangabelia related with Tagore society for rural development project. After having lunch, transfer for Kolkata. Overnight Stay at Kolkata.
Day 04 : Kolkata – Guwahati – Shillong
Morning transfer to Airport time to catch flight for Guwahati .You will be received at Guwahati and after a welcome ceremony transferred to Shillong (100 kms 3 hrs). Have Lunch enroute at Borapani Umiam Lake, a majestic placid lake with its surrounding sylvan hills. Check in at your hotel. Stay overnight at your hotel in Shillong.
Day 05 : Shillong: Cherrapunjee, Waterfalls, Cave, Lake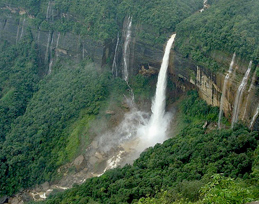 After breakfast drive to Cherrapunjee (60 kms 1 hr), the wettest place in the world. The beautiful waterfall-Nohkalikai is at Cherrapunjee. You can also explore some of the caves in and around Cherrapunjee. Return to Shillong, en-route encounter Elephanta falls and Shillong peak for some breathtaking views. Stay overnight at your hotel in Shillong.
Day 06 : Shillong-Kaziranga: Ward lake, Hydari Park
Morning sightseeing at Shillong, admire the beauty of Shillong also called Scotland of the East. It is erstwhile capital of undivided Assam; present North-East and home to the Khasi Highland tribes. After lunch drive to Kaziranga (280 kms 5 hrs), the home of unicorn rhino. Check in at the tourist lodge for overnight stay.
Day 07 : Kaziranga: Elephant Safari, Rhino
Early morning explore central area of Kaziranga National park on an elephant safari. Ride an Elephant through the park chasing a unicorn rhino along with a wide range of rare species.Best of East India Wildlife Tour After lunch again take jeep safari to the central area of the park. Rest of the day at leisure to explore nature. Overnight at tourist Lodge.
Day 08 : Kaziranga: Jeep Safari, Rhino, Tea Estate
Visit a tribal village and Tea Estate after breakfast followed by jeep safari in the eastern range of park with packed lunch. Spent the day exploring Mother Nature. Overnight at tourist Lodge.
Day 09 : Kaziranga-Kohima-Touphema Tourist Village
Depart for Kohima after breakfast (225 kms 5 hrs drive). On arrival proceed to Touphema Village Resort (41 kms from Kohima) run by Angami Naga village community. Enjoy cultural presentation by village folks. Stay overnight at Touphema Tourist village.
Day 10: Touphema-Kohima-Dimori Cove
Explore the village in the morning hours. After breakfast check out of the village resort & drive to Kohima. Visit the WW II Cemetery, nestled in the heart of Kohima town, where one of the fiercest battles was fought. On a huge stone in in-laid bronze the following famous words are there to remind one of undoubting courage displayed by the war heroes in order to preserve the freedom of the future generation.
Also visit State Museum, located at Bayani hill Kohima. It gives you a peep into the various aspects of Naga Culture. It displays dioramas of the lifestyle of the Naga tribes. Artifacts, handlooms, & Handicrafts, Tools & Implements, Gems & Jewelry, Coins & Ancient weaponry will give you an idea of the rich Culture and Heritage of the native people. Proceed to Kepfiizha (Kigwema village) Dimori Cove Guest house after lunch. This small but beautiful place is on the Kohima Imphal Highway, which we use as base for trekking up the Japfu Peak (3048 metre Mt) Japfu, home of the world's tallest rhododendron tree (20 metres high) and also for trekking to Dzukou Valley, the best trekking valley of North-East India.
Day 11: Khonoma: Drive to Khonoma (20 kms)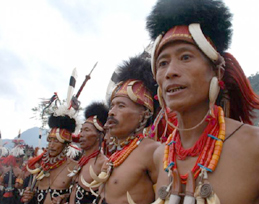 Visit Angami Tribal village of Khonoma, home village of father of Naga Nationalist movement Angami Phizo. This village located on top of a hillock has a pastoral beauty of its own. This was where the Last part of the Anglo Naga War was fought. Return to Kohima for overnight stay.
Day 12: Kohima- Jorhat: Tea Capital of the world, the Thengal Mansion, Assamese village.
Early in the morning, we will drive to Jorhat (200 Kms 4 hrs), the tea-capital of Assam. On arrival at Jorhat, you will be accommodated in the Thengal Mansion, a historic ancestral house of a Tea Planter amidst an Asssamese village, 15 kms from Jorhat. The 72-year old Thangal Mansion is to answer the queries on Assamese culture and tradition. After lunch and rest, take a walk in a nearby village to see the simplicity of their lives.
Day 13: Jorhat-Majuli: Biggest River Island, presentation on wild life.
Early morning drive to Majuli the biggest River Island in the world and seat of Baishnavite monasteries. You will cross-mighty Brahmaputra on a ferry to reach this historic Island. Overnight stay at the Govt. circuit house at Majuli.
Day 14: Majuli: Baishnavite Monastery, Cultural programme.
Majuli, the biggest river island, laps Kamalabari Satra and Auniati Satra, centers of Vaishnavite culture. Early morning visit to these satras and admire the close proximity of nature that thrills. Arrive back at Circuit house and in the evening enjoy the cultural display by the artists.
Day 15: Guwahati: River cruise, City.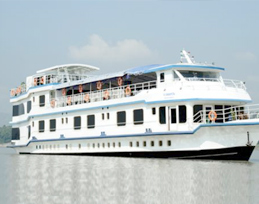 Early morning drive to Guwahati (340 kms 6hrs). On arrival check in to your hotel. In the evening set out on a River cruise to watch the sun go down the Brahmaputra River and see yourself why the river is locally called 'Luit'- colour of blood. Overnight at your hotel.
Day 16: Guwahati: Assam Silk, Pilgrimage centres.
Today you will visit Sualchuci, the Manchester of Assam. Which produces some of the finest qualities of 'Adi' and 'Muga' silks hand-woven and presented in colourful dresses. There are lots if you want to buy as souvenir. Also visit Hajo an all religion pilgrimage centre. Arrive back at your hotel by afternoon. Rest of day at leisure.
Day 17: Farewell, departure
Day free till the time of departure from Guwahati airport/railway station.
Tour and Services Ends.
Enquiry Form
Wildlife holiday packages for Sunderbans